Course

Description

In this 10 hour training video we cover the full scope of Substance Painter and Designer.

We start with modeling from a photograph in Maya and move on to setting up proper UVS. We then export the files to Substance Painter and begin the layout process. A huge part of the tutorial is using Substance Designer to build custom materials from our reference photography. Once we have our scene setup in Painter we export to Unreal 4 and setup a VR level with our assets as well as demo a setup using the newest Arnold for Maya.
Released on: 06/22/2017
Updated on: 06/22/2017
Category: General Pipeline, Game Design
Total Duration: 10h 15m 7s
Level: Intermediate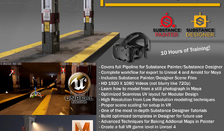 The author provided for you some example files. Example files can range from 3d Scenes to Photoshop projects, from Premiere projects to code. They are very helpful to understand more the concepts explained in the course.
---
Request Content